This entry was supposed to go up on December 20, but the holidays got in the way – albeit in a good way. I wanted to write about how thrilled I was to sell my first piece on Etsy. Now, after the fact, it is difficult to maintain the same warm glow of that moment. The print I sold was Spirit Ladder ehich you can see at the left. It was an unnumbered polychrome print available a few different sizes. I like the sense of uplift this image gives me, and I hope that the person who received it gets a similar feeling. It is sometimes surprising how people react to an image.
Since Spirit Ladder was ushered out the door, I have had the good fortune of placing my Limited Edition print of Haghia Sophia in a very good home, as well. So, it seems my Etsy shop is off to a good start for 2010 – knock on wood.
Looking ahead, I don't really want to spend much time writing about Esty – at least, not about the day in-day out workings. Rather, I want to address some of the aspects of my work. One of the first I want to cover is "polychromes". I describe much of my new work as being polychrome. This term has a particular meaning for me, and I would like others to understanding what I mean by it. It is not a specific technique, but it does have a particular look, so I will elaborate in the near future.
I hope "near future" is not an euphemism, especially since I have been work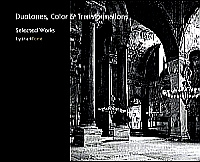 ing, off-and-on, on a short polychrome book that has been "coming soon" for rather longer than I care to admit. I hope that mentioning this in a blog constitutes an obligation to complete the book. This would be a companion to my Duotones, Color & Transformations book that is available at Blurb.com. This is a portfolio of work done before I came up with my polychrome approach.
I will leave off here as I need to add new items to gallery pages and to my Etsy Shop. I'll leave you with my best wishes for the New Year and a preview of one of my newest polychrome images.