Today I read an interesting thread over on dpreview.com. The original poster was asking for a "Definition of 'Fine Art Print'." It is a logical question, especially now that everyone seems to be cranking out photographs with their digital cameras and printers and calling them fine art prints. Many of the answers dealt with the technical aspects of printing and the materials used. These are important components, but they represent only part of the story. Besides, all fine art prints should be printed to archival standards, anyway.
So, what other qualities define a photograph as "fine art?" You could ask the same question of a sculpture or a painting, and, beyond inherent differences in each medium, I think the answer would be similar. While I do not pretend to have a definitive answer, I can offer some insight into why I consider some of my photographs as fine art in the hope that it may help you reach your own conclusion.
Defining what constitutes fine art is difficult, not only because it can seem subjective, but also because it depends on intangible or unquantifiable elements. If it were simple, no one would ever ask for a definition. Still, I would like to suggest four elements that define a work of fine art for me: perception, composition, voice, and story. Let me describe what I mean by each.
Perception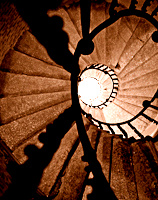 When I go out with my camera, I try to be open to my surroundings. I generally do not set a specific goal, like photographing bare trees, broken fences, or street people. And I rarely stage a photograph. I am more of a serendipitous photographer. That is, at some point in my wandering about – and this may sound bizarre – something will "ask" to be photographed. In truth, it helps to have taken photographs for years, because you develop an eye for subjects. Without that special sort of perception, it is difficult to capture meaningful pictures. I should add that, it is not just an eye for the physical world, but also for the emotional life that fills it. I don't often photograph people, but I almost always look for subjects that imply the actions of people.
Composition
Once I find something that strikes me – or it finds me – I take a photograph. The composition is extremely important to me, though, frankly, I don't spend a lot of time composing in camera. One of the benefits of an arts education and of taking lots of photographs is that you learn to see the framing even without the camera. Once the scene is in the viewfinder, you make some adjustments, but for the most part the work is done quickly. I do not mean to suggest that it is final, because I often will include more in the frame to give me more control when completing the composition for the final print. Cropping is a wonderful skill to master!
Story
This is the raison d'être of the photograph. Why did I take it? What was I thinking and feeling at the time? What story, in effect, is the final photograph going to tell me? All the futzing about in Adobe Lightroom or Photoshop is about getting the story out. But it doesn't matter which photo editing software you use, just as it doesn't matter which word processor you use. In fact, I would argue that it doesn't often matter which camera you use or how many megapixels it has, as long as you can capture the essence of your subject. For me, developing the story is the challenge, and this is where most of the "art" comes in. It's certainly where most of the time is spent.
Voice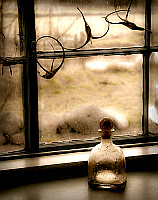 Your voice is what you use to tell your story. In essence, it describes the unique properties that you bring to your art. It comes from within, but is influenced by our experience as well as our genetic "hard-wiring." I find it influences all phases of my creative process. It influences how and what I photograph, how I compose an image, and it most definitely influences how I develop and print an image. Ultimately, it embodies what makes my work mine and possibly unique.
_
Synergy

Perception, composition, story, and voice each contribute to my final print. If I've worked diligently, the whole will be greater than the sum of the parts. In my mind, at least, the image above has become more than a photograph of a bunch of cranes and houses, more than technical processing skills, and certainly more than archival paper and ink. It must transcend to become something larger – to become a fine art print.
Those are my thoughts, though I imagine this is a topic I will come back to over time. Meanwhile, I would be very happy to hear what others have to add to the discussion.